Hot Springs Pool
What better way to spend part of your time at Terrace Lakes Resort than in our natural hot springs heated pool? Whether it's after a day of golf on our championship course in the summer or a day snow tubing and cross country skiing in the winter, you will not want to miss the opportunity to enjoy our hot springs pool. Swimming is a favorite activity of both children and adults. There is a shallow area of our pool where children delight to play. Lounge out next to the water in the warm summer sun or stay cozy in the hot springs water in the middle of the winter and watch the flakes fall.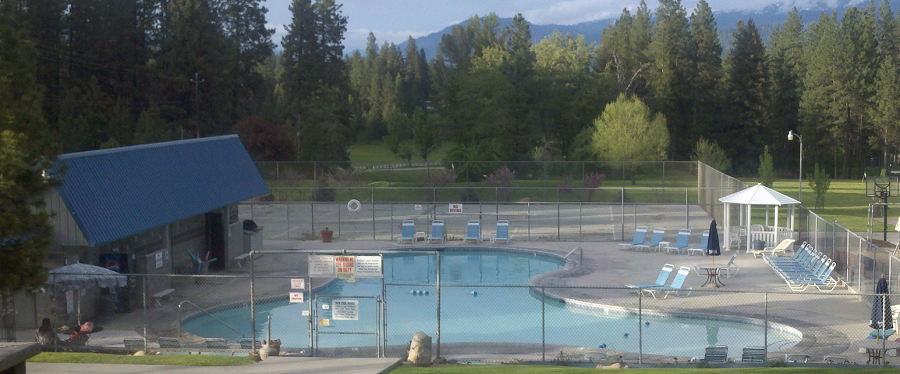 The outdoor pool is surrounded by the beauty of the Boise National Forest. Hot springs pools are a beloved feature of our unique Idaho Mountain environment. They are formed where the hot rocks below the Earth's surface are close enough to surface water pools to warm the water. At Terrace Lakes Resort, the hot springs heated water is used to fill our immaculate outdoor pool, keeping it open and heated year round.
For thousands of years, people have regarded hot springs water as a way to relieve health problems and to relax. Natural hot springs water has a high mineral content including the following minerals:
Silica-thought to soften the skin with natural exfoliating properties.

Calcium and Magnesium-thought to ease bone, joint, and muscle pain.

Sodium Bicarbonate-thought to soothe sun and wind burn, as well as other skin discomforts.
The massaging action of the natural mineral water is believed to improve the circulation of blood and stimulate the release of toxins from the body. While no one knows for sure exactly how hot springs mineral water benefits our bodies; at Terrace Lakes Resort, rest assured that after relaxing and playing in our pool, you will feel refreshed and rejuvenated.
It's a one of a kind experience at Terrace Lakes Resort where we bring the natural wonder of hot springs heated mineral water to our guests in our pristine outdoor pool. Come experience our pool in any season, you'll be glad you did! We can't wait to have you.
Hours of Operation
Sunday-Thursday: 10:00 AM - 8:00 PM
Friday & Saturday: 10:00 AM - 10:00 PM