North Ridge at Terrace Lakes Subdivision
North Ridge at Terrace Lakes is Garden Valley's newest subdivision that borders the back nine of Terrace Lakes Golf Couse. Live where you want to vacation. Enjoy a beautiful 18 hole golf course, year round geothermal natural hot water pool, tennis courts, restaurant and lounge.
Garden Valley's Newest Subdivision - 1.3 - 5 acre parcels $45,000-$84,500
(See Available Lots Below)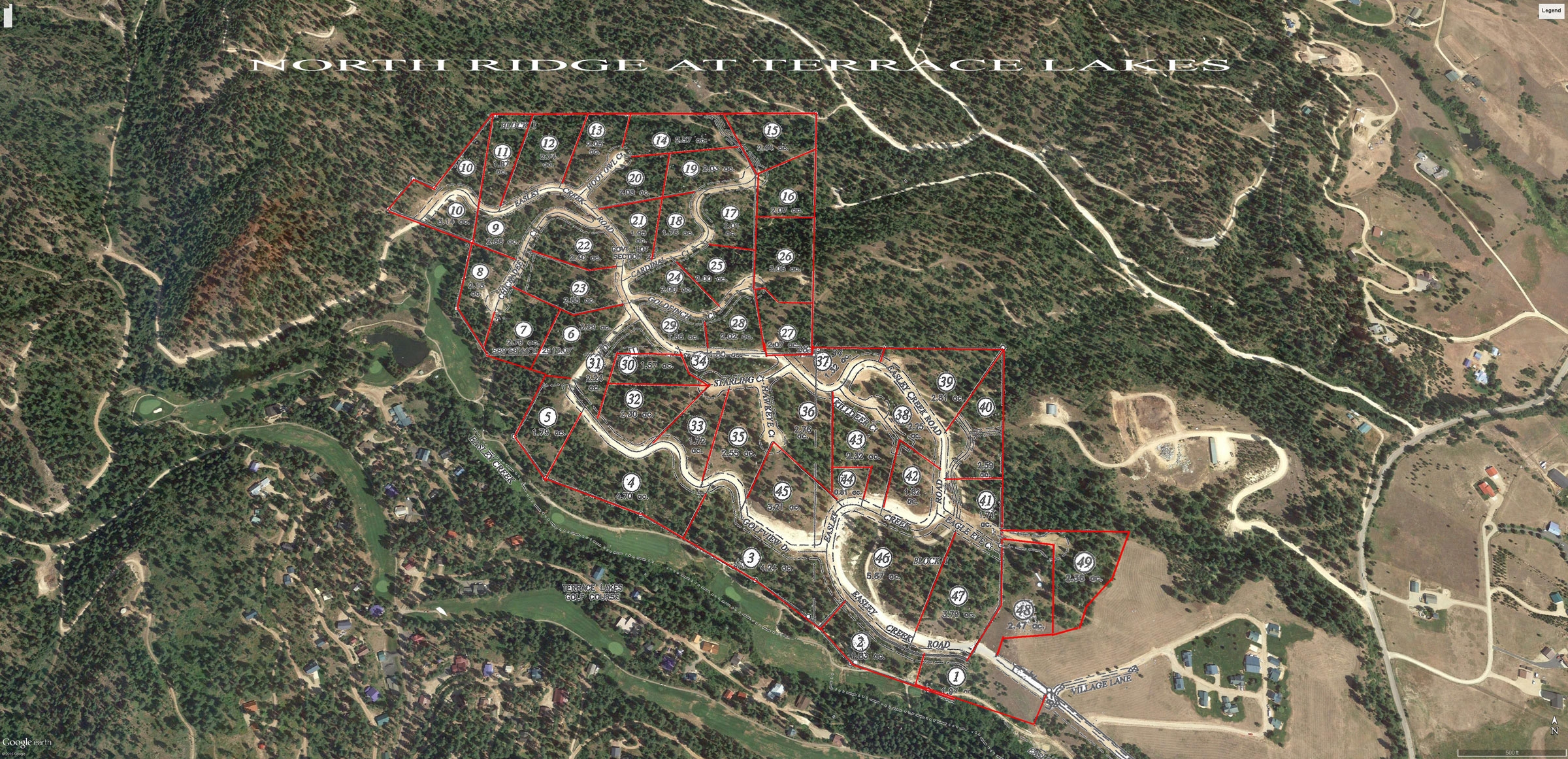 Click image thumbnail below to see enlarged image
DIRECTIONS: BANKS LOWMAN ROAD... LEFT ON MIDDLEFORK ROAD, APPROXIMATELY 4 MILES, PAST WARM SPRINGS, (ROAD TO TERRACE LAKES RESORT), FIRST ROAD ON LEFT IS EASELY CREEK ROAD, TURN LEFT AND GO STRAIGHT (PAST CABINS W/ GREEN ROOFS) TO ERA WEST WIND SIGN WHERE SUBDIVISION BEGINS.
| Lot# | Acres | Price | Lot# | Acres | Price |
| --- | --- | --- | --- | --- | --- |
| 1 Sold | 1.97 | $55,000 | 26 Sold | 3.06 | $62,000 |
| 2 Sold | 1.83 | $55,000 | 27 Sold | 2.07 | $64,500 |
| 3 Sold | 4.24 | $70,000 | 28 Pending | 2.02 | $64,500 |
| 4 Sold | 4.70 | $77,500 | 29 Pending | 1.66 | $49,500 |
| 5 Sold | 1.79 | $75,000 | 30 | 1.57 | $74,500 |
| 6 Sold | 3.29 | $67,500 | 31 Sold | 2.24 | $64,500 |
| 7 Sold | 2.79 | $79,500 | 32 | 2.30 | $79,500 |
| 8 Sold | 2.15 | $79,500 | 33 | 1.72 | $84,500 |
| 9 Sold | 2.66 | $79,500 | 34 | 1.80 | $64,500 |
| 10 Sold | 3.14 | $69,500 | 35 Sold | 2.55 | $84,500 |
| 11 Sold | 1.87 | $74,500 | 36 | 2.78 | $74,500 |
| 12 Sold | 2.74 | $84,500 | 37 Sold | 1.32 | $79,500 |
| 13 | 2.05 | $79,500 | 38 Sold | 2.25 | $74,500 |
| 14 Sold | 2.57 | $74,500 | 39 Sold | 2.81 | $50,000 |
| 15 | 2.44 | $74,500 | 40 Sold | 2.59 | $50,000 |
| 16 Sold | 2.07 | $55,000 | 41 | 1.71 | $69,500 |
| 17 Sold | 2.01 | $45,000 | 42 Sold | 1.82 | $74,500 |
| 18 Pending | 1.76 | $74,500 | 43 | 2.32 | $74,500 |
| 19 Sold | 2.03 | $74,500 | 44 XX | well lot | not for sale |
| 20 Sold | 2.08 | $74,500 | 45 Sold | 3.21 | $84,500 |
| 21 Sold | 1.95 | $77,000 | 46 Sold | 5.67 | $79,500 |
| 22 Sold | 2.40 | $62,500 | 47 Sold | 3.79 | $69,500 |
| 23 Sold | 2.85 | $69,500 | 48 | 2.47 | $54,000 |
| 24 | 2.00 | $50,000 | 49 Sold | 3.36 | $84,500 |
| 25 | 2.00 | $49,500 | | | |
Contact Ilene Johnson
Exclusive Idaho Real Estate Agent for Terrace Lakes Resort

For more information these lots or other Idaho Vacation Homes and Real Estate Investment Properties

ERA West Wind
950 North Cole
Boise, ID 83704
(208)377-2121
www.erawestwind.com

Terrace Lakes Resort Office
Garden Valley, Idaho
(208) 462-3250
www.resortcabins.com
ilenej@mindspring.com