SNOLF TOURNAMENT, March 13, 2021: The final SNOLF tournament of winter 2021 will be held on March 13, 2021. Registration will be at the pavillion at Terrace Lakes Resort from 11:30 AM to 12:45 PM and we will tee off at 1:00 PM. We are expecting a large crowd for this one so you will need to pre-register your team using this link: https://forms.gle/hGzb9QszHUQeDvGN8
To read the complete rules of SNOLF, click this link: http://cdn.cybergolf.com/images/1580/SNOLF-TOURNAMENT-RULES.pdf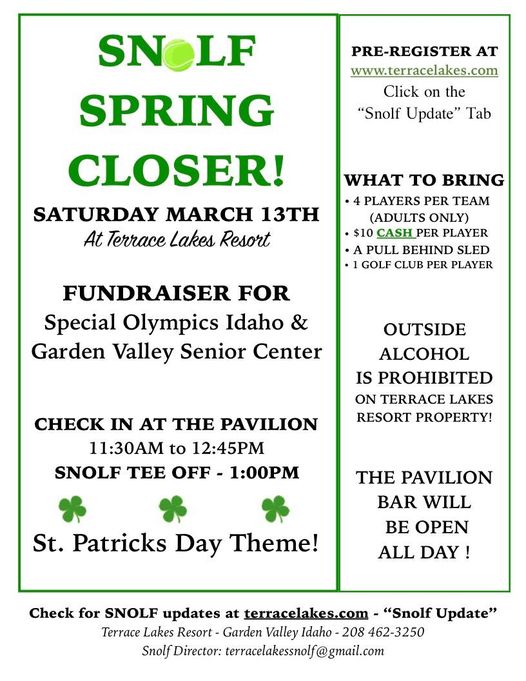 Funds raised from SNOLF tournaments support the Special Olympics Winter Games at Terrace Lakes Resort. Lets have a great SNOLF turnout this winter to benefit this important organization again!
If you are intersted in assisting with SNOLF tournaments this winter, contact the SNOLF Directors via email at terracelakessnolf@gmail.com
Click Here to Listen to a Boise State Public Radio Podcast about SNOLF at Terrace Lakes!
For lodging at Terrace Lakes, please call the office at (208) 462-3250 or Click Here to Book Online